Brexit marks the emergence of the UK as a powerful European but non-EU player on world audiovisual markets. How can we understand the seismic shifts in the European markets post-Brexit? The European Audiovisual Observatory has just launched the 2020/2021 edition of its online Yearbook. With its coverage of 40 European countries and Morocco, the Yearbook provides a unique overview of what's happening in the audiovisual sector with:
287 tables
40 country fact sheets
This new 2020/20201 edition includes the data range of 2015 to 2019
A single user subscription costs 370 euros and multi-user access costs 800 euros. Subscribe here.
We offer a free subscription to selected media journalists. For further information contact: alison.hindhaugh@coe.int
So what are the new post-Brexit changes we can expect in the media markets?
• The EU loses a TV channel hub.
The UK has hitherto been the main hub for the establishment of TV channels in the EU. Other non-European Union countries hosting a large number of TV channels include Russia and Turkey and, to a lesser extent, Switzerland, Albania and Georgia.
European channels established outside the European Union (proforma, 2019)

Note: includes all European countries members of the European Audiovisual Observatory
Source: European Audiovisual Observatory/MAVISE Database
• Due to Brexit, the European Union loses 14% of the European TV advertising market.
The European Union's weight on the European audiovisual market obviously decreases with Brexit. It will for instance capture only 73% of the European market, vs. 87% before the Brexit.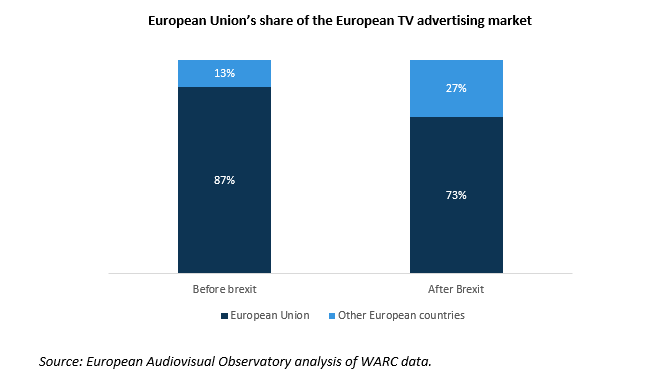 • Due to Brexit, the European Union loses 11% of its pay-TV subscribers and 23% of its SVOD subscribers.
• But the UK joins a very diverse club post BREXIT.
Outside the European Union, European countries present very different profiles in terms of media concentration. The audience share of the main TV groups is slightly lower than in the EU, with strong differences between countries.
Audience share of the 4 main broadcasting groups (%, 2019)

Source: European Audiovisual Observatory analysis of Glance data.
The yearbook 2020/2021: all the key data to understand the market shifts in Europe after Brexit.