New free report on their added value and functioning
Download the report: VOD distribution and the role of aggregators
Over the last years, VOD services have boomed, bringing about considerable changes, both for industry players and consumers. The VOD window is becoming more and more competitive and so actually getting visibility for films and TV content is becoming increasingly difficult. In addition, as big online retailers typically prefer to strike deals for huge volumes of content, some rightsholders such as producers and distributors with small catalogues may face barriers when trying to place their content on VOD platforms.
Furthermore, rightsholders may have to comply with specific technical standards, depending on the VOD platform. These factors have led to the rise of new players: VOD aggregators, a new category of intermediaries between rightsholders and VOD platforms. A new report by the European Audiovisual Observatory, financed by the European Commission, examines their role in the digital distribution landscape, exploring their core activities as well as their impact on the value chain.
An evolving portfolio of activities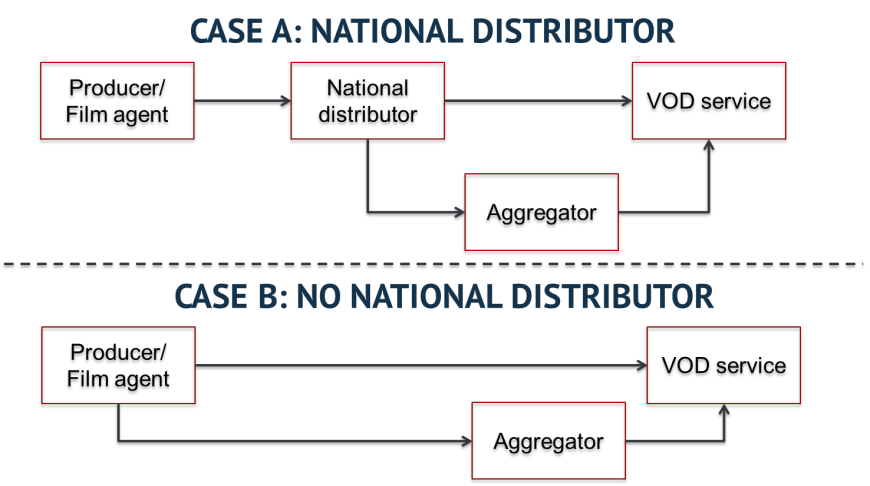 Aggregators are intermediaries that help distribute film and TV content on VOD platforms (such as iTunes, Google Play, Amazon). They have carved out their role of middlemen through a diversified set of functions, mainly revolving around two pillars:
Building large catalogues of titles, which allow rightsholders to place their content on those global platforms that require a minimum volume of films, given that many VOD services will not make deals with rightsholders for small-sized catalogues.
Processing the digital content files ("encoding") in order to deliver them to the platforms in accordance with their specific technical requirements.
Aggregators may also deal with additional technical services, such as the management of close captions, subtitles, metadata and artwork. Some of them have progressively extended their services to other related areas such as marketing, content sourcing and strategic consulting. For instance, they can design and advice on digital distribution and marketing strategies, helping rightsholders to maximise their revenues across multiple platforms and increase the visibility of the films online.
Companies offering aggregation services come from different business backgrounds, ranging from digital postproduction to film distribution. Some aggregators are global players, while others focus on specific countries but in general their scope covers multiple territories.
Exploring new opportunities in VOD distribution
Source: European Audiovisual Observatory
By targeting different platforms, aggregators may help distributors to seek out unexplored business opportunities, while improving the cross-country circulation of films. This is particularly relevant for those films without theatrical distribution in a given territory, in which case aggregators may partner up directly with producers or film agents to place the film on VOD platforms. In particular, using aggregators to distribute content to online platforms may benefit the circulation of European non-national films, which may otherwise struggle to find a distributor. Aggregators help to access VOD platforms outside their production countries.