An increasing number of audiovisual media services target foreign national markets. Typically, these tend to be recently-emerged hubs from which broadcasters and on-demand service providers circulate services. In some cases these constitute a significant market power in the respective target countries. Where are these services established? Who owns them? What countries are being targeted and what market power do these services have in the target national market?
The European Audiovisual Observatory, part of the Council of Europe in Strasbourg, has just published a brand new report "Audiovisual Media Services in Europe: Focus on Services Targeting Other Countries". Based on data gathered in the MAVISE database, the report provides an overview of the European audiovisual media landscape. It maps the origin of linear and on-demand services and their circulation and focuses on services specifically targeting other countries.
Key findings: TV channels and on-demand services targeting other national markets
At the end of 2016, around one third of all television channels and on-demand services established in the EU specifically targeted foreign markets. These services belonged to 44 parent companies, 26 of which were of European origin, 15 of US origin, and three of 'other' origin.

The market power of foreign services specifically targeting national markets can be significant: In seven European countries (5 EU Members: Hungary, the Netherlands, Sweden, the French Community of Belgium and Denmark, plus the French-speaking part of Switzerland and Norway) the cumulated audience market share for targeted TV services was greater than 20% of the overall audience market share.

The United Kingdom was in 2016 the leading European hub for linear and on-demand audiovisual services targeting foreign markets. Other major hubs for both types of services include the Czech Republic, the Netherlands and Luxembourg.

Several major players for pay on-demand services established in the US have created European-based subsidiaries from which they operate their services targeting other national markets. These include Amazon, Netflix and iTunes.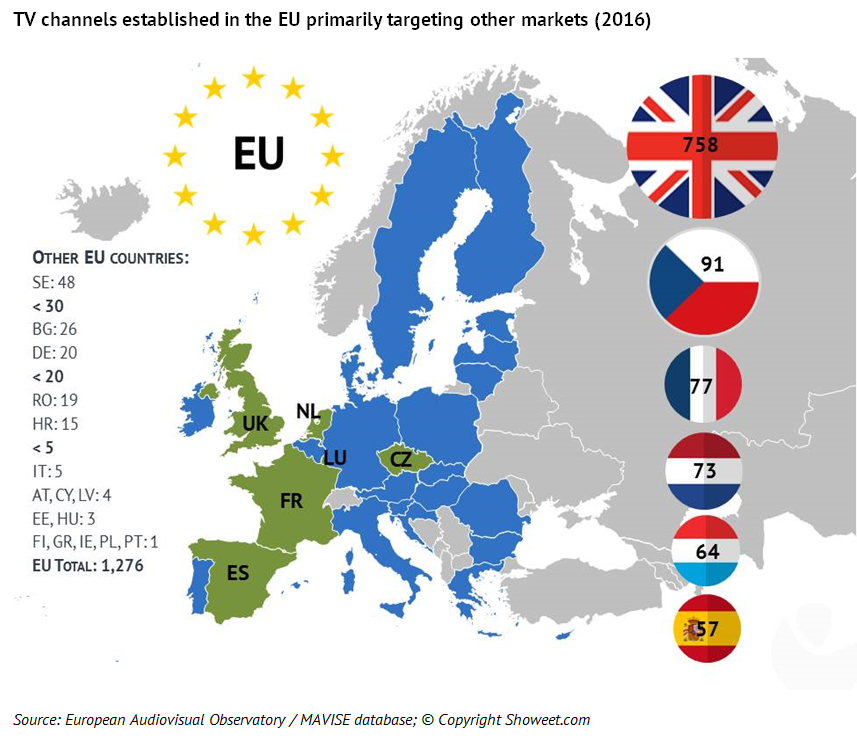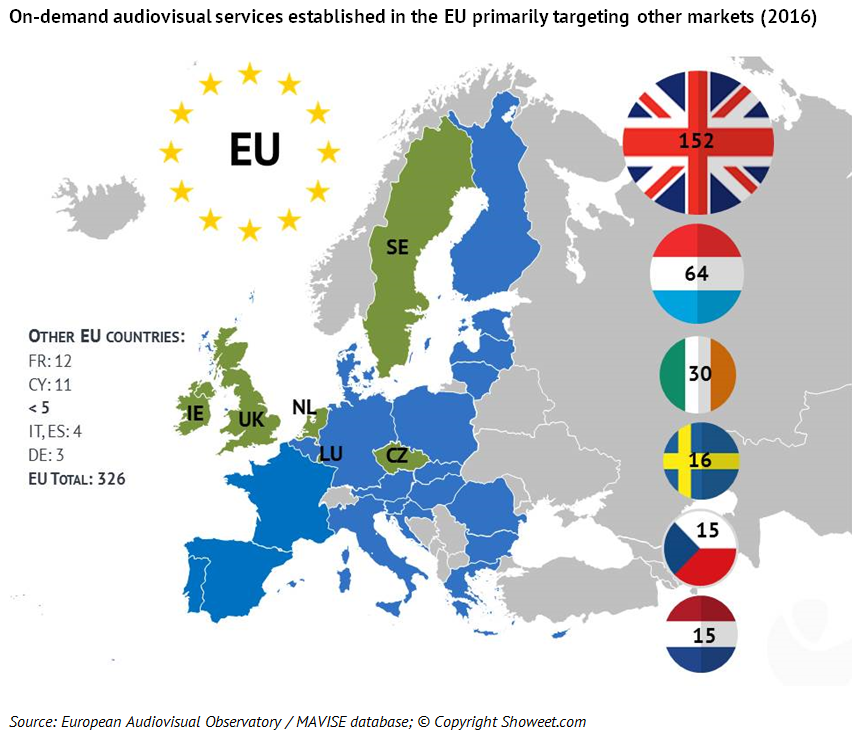 Development of audiovisual media services established in Europe
The EU was in 2016 home to a total of 4,063 television services and 2,207 on-demand audiovisual services; a total of 5,226 linear services and 2,516 on-demand services were established in 40 European countries, plus Morocco (figures for on-demand services include catch-up TV). Half of all audiovisual media services established in the EU at the end of 2016 were concentrated in three countries: the UK; France; and Germany. Around one in 10 television services was a public service broadcasting channel and one third were available in HD format.
Two thirds of all TV channels established in the EU in 2016 comprised seven genres: sports (15%); entertainment (13%); film (9%); children (7%); documentary (7%); generalist (7%); and music channels (7%). The top genres for on-demand services were virtually identical to those for linear services: 17% generalist; 17% film; 11% children; 9% documentary; 7% film and TV fiction; 7% entertainment; and 6% sport. The figures were similar for the 40 European countries covered by the Observatory, plus Morocco.
One fifth of television services established in the EU were accessible via digital terrestrial television (DTT), and the rest via cable, satellite, or internet protocol television (IPTV). The majority of television channels were pay and/or premium services while 30% were available free-to-air. The majority of on-demand audiovisual services based in the EU were accessible via online access only (77%), followed by managed access through set-top box (14%) and managed access through set-top box complemented by over-the-top (OTT) applications (9%). The most common business models of these services were catch-up TV and free-on-demand, together representing 71% of the total number of services. Transactional video-on-demand and subscription video-on-demand made up the remaining 29% share.

Trends in the distribution and availability of linear and on-demand services in Europe
Access to audiovisual services in 2016 varied greatly from one European country to another but variation was less pronounced for on-demand services. In two out of three EU countries, people were able to watch between 300 and 600 television channels on average, and in over two-thirds of EU members states consumers could access between 100 and 150 on-demand audiovisual services (excluding catch-up TV services).
The majority of TV channels available on average in a given country in 2016 were foreign channels. Overall, by December 2016, the share of foreign services available in an EU member state tended to be higher for TV (84%) than for on-demand services (74%).
A total of 75 pay on-demand services with US parent companies were available in 2016 in Europe, including several country-specific and linguistic versions of the same service, offered by major market players such as Google and Microsoft.